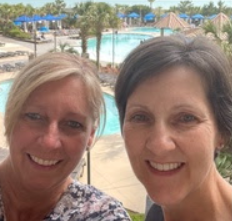 More than….
just a place to work!
Over the years together as a dental team, we have tried our best to develop relationships that extend beyond that of a colleague/coworker. To highlight the friendships within our office, I want to share the sweet story of Sandra (assistant) and Laurie (secretary) who have been friends for thirty years and working for me for more than twenty years.
Sandra has been with me since I purchased the practice from Dr. Mazza in 2001. When I first met Sandra, I did not think she was old enough to be married let alone working as a dental assistant. Our running joke is that she is 'way' older than me but has aged VERY WELL! It has been an absolute joy to have her by my side daily as we care for our patients.
Shortly after purchasing the practice, I was in need of a secretary and Sandra recommended Laurie, her friend and dental assistant. Laurie interviewed with me while she was 5 months pregnant with Courtney. I was impressed by her enthusiasm and work ethic. Twenty years later, I am still blown away by the commitment and integrity these two women offer to our patients and to me.
Sandra and Laurie planned a special trip last month to celebrate their 30 years of friendship (see photo). What a blessing to go to work everyday, serving the patients who entrust us with their care but also working alongside dear friends who enjoy time together both in and out of the office.
My hope is that when you visit our office, you feel the compassion we have for each of you and the bond we have as your dental team. Thank you for the opportunity to care for your dental needs!
Joyfully,
Jessica
PS HAPPY FATHER'S DAY to all you amazing dads!