Greetings,
One of the greatest blessings of working with a group of women that I both love and admire is that I get to share in the joys of life outside of work. Many of you have come to know and adore our new hygienist, Michaela Barnette (she assumed Laura's position when she retired to be with her children). Shortly after Michaela joined our team, she became engaged to the love of her life, Taylor Brown.

For the last two years, we have been on her journey of wedding planning. The highs and lows of preparing for one of the biggest days of her life. Well, that day came last month (April 15th) and we all were present to witness their union in marriage.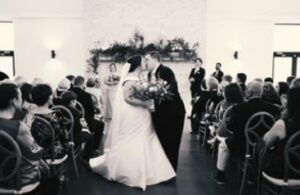 This is just one of the many sweet photos of this amazing couple! Congratulations Mr. and Mrs. Brown! We are thrilled for this new chapter in your life.
As always, it is both a pleasure and an honor to be your dentist. My team and I feel grateful to be entrusted with your care. We hope that you know how much each and every one of you means to us!
Sincerely,
Jessica Bishop, DDS, PA