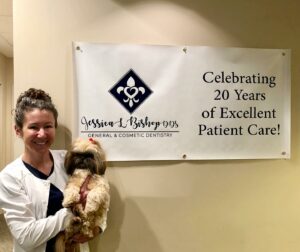 Next month, we will be celebrating twenty years since I bought the practice from Dr. Mazza (my amazing and supportive predecessor). He was patient and kind when dealing with a young dentist just out of dental school, learning her way. He was present and willing to continue to work a few more years as I got up to speed to care for his patients and he transitioned to retirement.
I have also been so lucky with the gift that is my staff. There are five of us that have been together for the entire 20 years — we have literally grown up together! We got married, had babies, and now, one of those babies is in college. We have cried, laughed, and fought… but, at the end of the day, we're family — we love one another and we love our patients!
My unusual gift is to have lived this crazy year of COVID and to have been put in a position to need to hire new staff — any of you that employ people know how stressful this can be. We hired four new women and, within a month of their presence, it was like the 10 of us had been together our entire lives. This is a gift beyond gifts. When I reach the end of my time here on earth, I will look back and have spent more hours of my life with these women than any other humans. To work with people you love and respect is a gift that keeps on giving!
To our patients, THANK YOU for being a huge part of the gift that is this practice! We could not do this without our patients and the support you have and continue to show us. June is our anniversary month and we are calling it "Dental Patient Appreciation Month" in our practice. This type of honor doesn't exist on our calendars so, we are making our own holiday and we will celebrate all month long. In years to come, June will continue to be our "Dental Patient Appreciation Month". If you have an appointment, there will be treats! If you don't have an appointment, still come by for goodies and treats as we CELEBRATE you!!
Much love,
Jessica