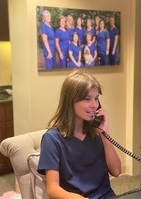 ….isn't always a bad thing.
It's June 2021 and we are celebrating our 20th anniversary this month. What has been a fun observation during this month is to recognize how many of you have been with us since this beginning. This is both an honor and a gift we cherish. To be entrusted with your care for the past twenty years is not something I take lightly.
Through the years, we have changed, evolved, grown into what I have always dreamed my dental practice would be. I had worked with my dad growing up, so I had a sense of what I desired and it has taken years to nurture this. I have often been asked why I don't open multiple dental offices as is the trend these days. My response is what I hope you see that makes us DIFFERENT.
I desired a small but busy practice with a dedicated staff that would treat our patients like family. We would build relationships based on trust and confidence that we truly care about each patient. This would be hard to duplicate in a large multi-doctor office.
I wanted to be able to serve my patients beyond my office hours. As many of you have utilized, I can be reached all hours of the day and on weekends by my cell, by text, or by email. I hope I never lose this ability to be in constant and consistent communication with you.
My goal was to offer a level of service to each patient that let you know when you are here, you are the focus of my attention and that I care about your situation beyond just seeing a set of teeth. Keeping the practice small affords me this opportunity. Having an amazing and supportive staff allows us to stay busy and to assist as many people as possible.
I recently received a note of praise from a patient about my staff and me. It warmed my heart when she said that her dental appointments were a 'date to look forward to'! We may not always be perfect, but we strive to do our best and we thank you for being part of our family of patients.
With Gratitude,
Jessica
PS You will be seeing a new staff member at the front desk this summer. Madilyn has decided that she wants to be an office manager like Laurie when she grows up. What better way to learn about a future career than to work in it!! When you call, you may hear a young lady answer to help you with scheduling appointments.